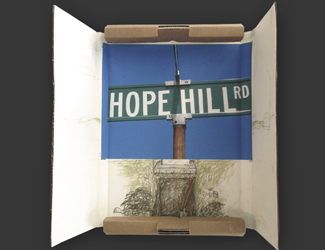 Robert Gober, Hope Hill Road, 2012
Each fall, Esopus sends to Premium-level subscribers a limited-edition artwork commissioned from a contemporary artist. The edition size of each artwork always equals the number of Premium subscribers when the edition is manufactured, and the artwork is not otherwise available for sale.
The inspiration for this series came from the fall of 2012, when Esopus invited acclaimed artist Robert Gober to create a limited edition [left] to serve as a "placeholder" gift to subscribers during a shift in our production schedule. Reader response to the edition was overwhelming, and we realized that by continuing to produce these editions we could not only fulfill our mission of providing affordable artworks to our audience but also allow artists to work in a range of formats that were beyond the scope of a regular issue of Esopus.
We also offer limited-edition artworks in exchange for donations to the Esopus Foundation Ltd.; more information about these can be found here.