Distribution
Since its inception, Esopus has always been offered at subsidized cover and subscription prices (significantly less than its production cost) to make it available to people who would otherwise not be able to afford it, as well as attractive to a readership unfamiliar with higher-priced specialty arts publications. Before suspending publication in 2018, we offered 500 free copies of each issue to public, school, and alternative libraries in rural and inner-city areas through the Distribution to Underserved Communities (DUC) Library Program of New York City's Art Resources Transfer Ltd. We have continued to offer complimentary copies of Esopus Books publications, including Modern Artifacts.
In the fall of 2018, the Esopus Foundation Ltd. embarked upon a comprehensive program to distribute the bulk of its available back issues to public school, community center, reservation, and prison libraries around the country. The Foundation has already donated complete sets of these issues to the New York Public Library and Brooklyn Public Library, which will distribute these to 45 branches within their systems, as well as 10 sets each to the Mississippi and Vermont Public Library systems. Our ultimate goal is to place approximately 80% of our back catalog in underserved libraries.
To find copies of Esopus at your local library, please visit our Where to Find page.
Please contact us at info@esopus.org with donation requests.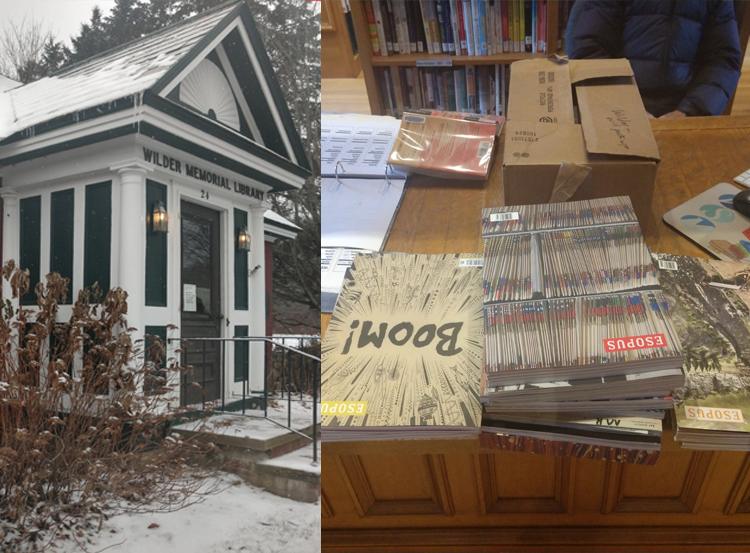 A complete set of available back issues of Esopus arrives at Cutler Memorial Library in Weston, VT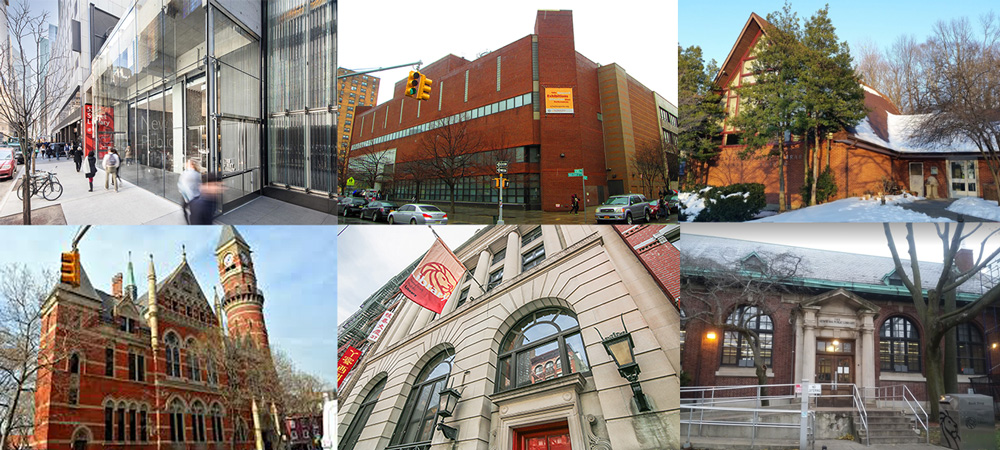 A sampling of New York Public Library branches holding sets of Esopus, including (clockwise from top left) the 53rd St. Branch in midtown Manhattan, The Schomberg Center for Research in Black Culture in Harlem, the Riverdale Library in the Bronx, the St. George Library on Staten Island, the Chatham Square Library in Chinatown, and the Jefferson Market Library in Greenwich Village,
Education
Over the past 15 years, Esopus editor Tod Lippy has spoken about Esopus and its mission of presenting unmediated creative expression to a thousands of high school, vocational school, undergraduate, and graduate students at institutions such as the Elizabeth Irwin High School, Year Up New York, New York University, Yale University, Bennington College, the School of Visual Arts, and the University of Southern California.
In 2019, the Esopus Foundation initiated planning for an educational initiative focusing specifically on public high schools students in the five boroughs of New York City. The effort was meant to work in tandem with our distribution program to public schools and include 1) lectures and workshops in a secondary schools led by editor Tod Lippy; 2) school residencies with Esopus contributors from a range of creative disciplines; and 3) short-term internships for high school students with the Esopus Foundation Ltd. Lippy inaugurated this initiative with a lecture and in-class visit to seniors at the New York High School of Art and Design in 2019; the Covid-19 pandemic forced the Foundation to suspend programming for 2020–21 but we anticipate returning to educational programming in the fall of 2022.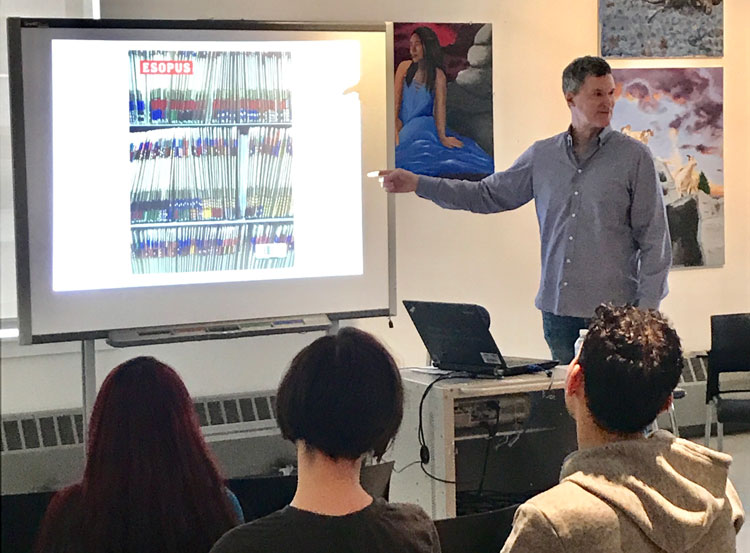 Esopus editor Tod Lippy speaks to seniors at New York City's High School of Art and Design in February 2019.