In June 2009, a capacity-building grant from the Andy Warhol Foundation for the Visual Arts enabled the Esopus Foundation to move from its original 250-square-foot office to a substantially larger combined office and exhibition space in downtown New York. Exhibitions in Esopus Space, open from June 2009 to June 2012, showcased work from Esopus contributors and emerging and established figures in the contemporary art world. The schedule featured both one-person exhibitions and group shows, including those conceived by guest curators. The space, which seated approximately 50 people, also presented a series of events, including readings, musical and theatrical performances, panel discussions, lectures, and film and video screenings.
ESOPUS SPACE HIGHLIGHTS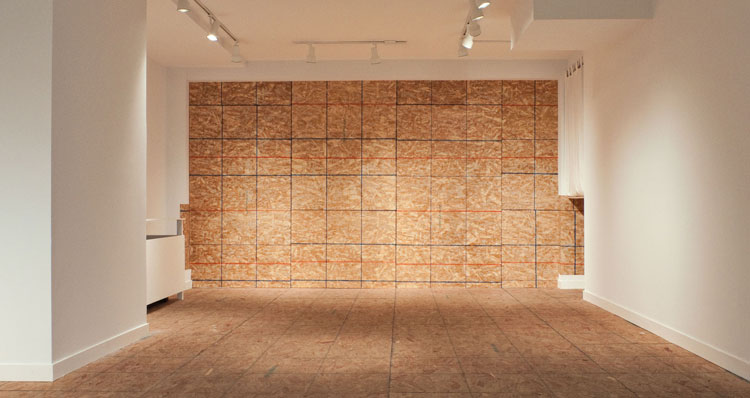 EXHIBITION: Bryan Nash Gill, What Was Will Be Again, April 16–June 6, 2012
A site-specific installation by the late artist Bryan Nash Gill featured an eight-color, 122-square-foot woodcut print with applied monoprint that mirrored the gallery's OSB particle-board floor. The piece, consisting of nine separate components printed from four woodblocks and four Plexiglas stamps, correlated with an eponymous project Gill created for Esopus 18. The issue was launched at a reception for Gill on May 2, 2012. The title of the exhibition and project referenced the fact that Esopus Space, which staged 18 exhibitions and more than 30 events in its three years of existence, officially closed when Gill's show ended on June 5th. REVIEW IN THE NEW YORKER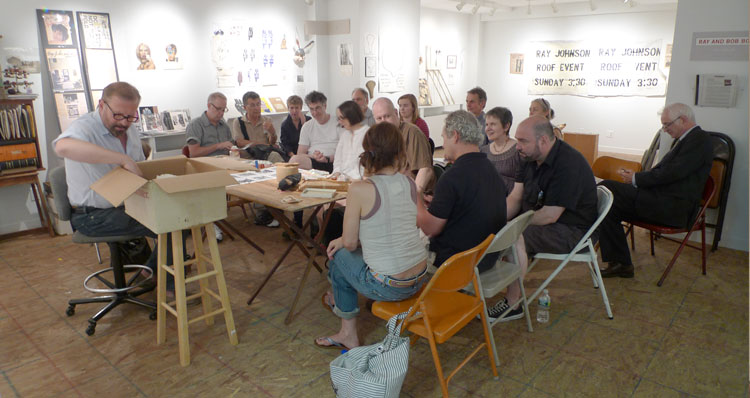 EXHIBITION: Ray and Bob Box, June 2–June 30, 2011
This exhibition and event series related to a years-long correspondence between the legendary late artist Ray Johnson and Robert Warner, a subject explored in depth in Esopus 16. It included a series of two-hour performances at Esopus Space in which Warner archived the contents of 13 boxes given to him by Johnson in the early '90s, and also featured a number of never-before-seen works by Johnson from Warner's collection, a sampling of the two artists' correspondence, and a screening of Nick Maravell's videos of Ray Johnson. REVIEW IN THE NEW YORK TIMES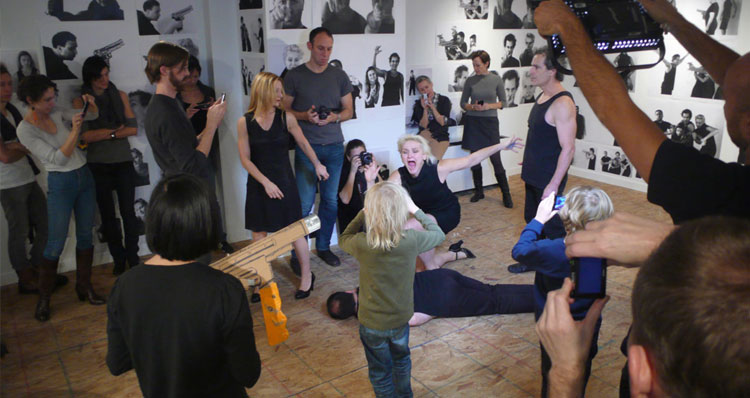 PERFORMANCE: Alix Pearlstein, Shoot: Moving Paper Fantasy, November 2, 2010
Acclaimed New York–based artist Alix Pearlstein created a photo and video shoot staged as a participatory performance, geared towards generating an artist's project for Esopus 16. Observing Jean-Luc Godard's dictum "All you need for a movie is a girl and a gun," a group of actors performed a series of scenes using handmade cardboard guns, while the audience shot the action with video and still cameras. Stills from prior rehearsals papered the space, exposing the transposition between documentation and live performance and forming a backdrop for the shifting roles of performer and audience, protagonist and adversary.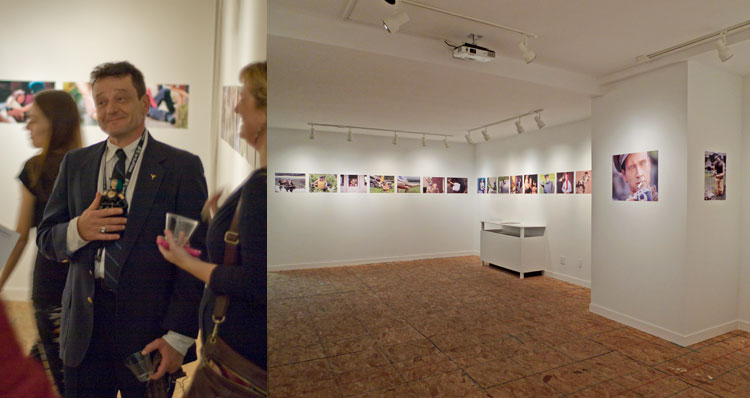 EXHIBITION: Mark Hogancamp, Picturing Marwencol, Sept. 16–October 28, 2010
On April 8, 2000, Mark Hogancamp was brutally attacked by five men in his hometown of Kingston, New York. The assault caused severe brain damage, and after running out of insurance money, Hogancamp turned to art as a therapeutic tool. He constructed Marwencol, a fictional Belgian town built to one-sixth scale in his backyard, populating it with military figurines and Barbie dolls representing World War II personages like Patton and Hitler as well as stand-ins for himself, friends, and family. He used an old camera to capture staged events ranging from pitched battles between occupying German and American forces to catfights in the town bar. Hogancamp made his public debut in 2005 when "Marwencol on my Mind," a piece featuring a selection of the artist's extraordinary photographs and the inspiring story behind them, appeared in Esopus 5. 
Picturing Marwencol included 43 photographs Hogancamp took over the past several years of his imaginary town. Depicting everything from erotically charged moments between lovers to vividly realized battle scenes, each demonstrates what critic Jerry Saltz called Hogancamp's "uncanny feel for body language, psychology, and stage direction." PROFILE IN THE NEW YORK TIMES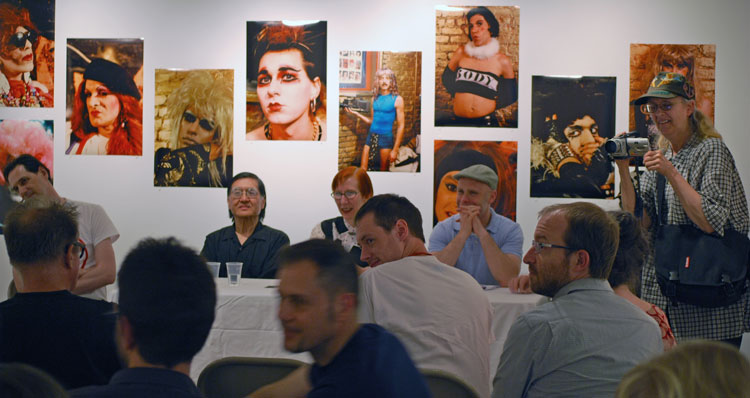 CONVERSATION: "Free Zone: The Pyramid Club in the 1980s," June 30, 2010
In conjunction with the Clayton Patterson: Pyramid Portraits exhibition, Esopus Space hosted a panel discussion cosponsored by the Greenwich Village Society for Historic Preservation about the extraordinary scene at the Pyramid Club in the 1980s. Panelists included photographer and community activist Clayton Patterson, performance historians Joe E. Jeffreys and Iris Rose, drag legend Agosto Machado, and Andrew Berman, executive director of the Greenwich Village Society for Historic Preservation.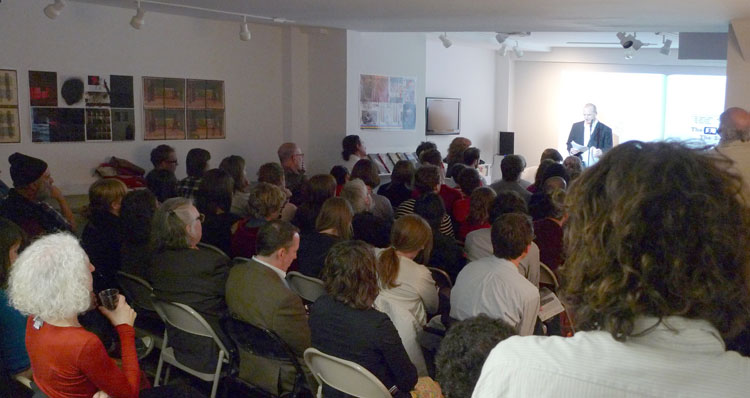 PERFORMANCE: "Lost and Found: An Evening with Bern Porter," April 22, 2010
Coinciding with the Lost and Found: The Work of Bern Porter exhibition at The Museum of Modern Art, Mark Melnicove, Dan Domenech, Kenneth Goldsmith, and Rachael Morrison presented, performed, and screened the life and work of the legendary artist, philosopher, poet, and scientist, whose 1974 artist's book Where to Go/What to Do/When In New York… was reproduced in facsimile in Esopus 12.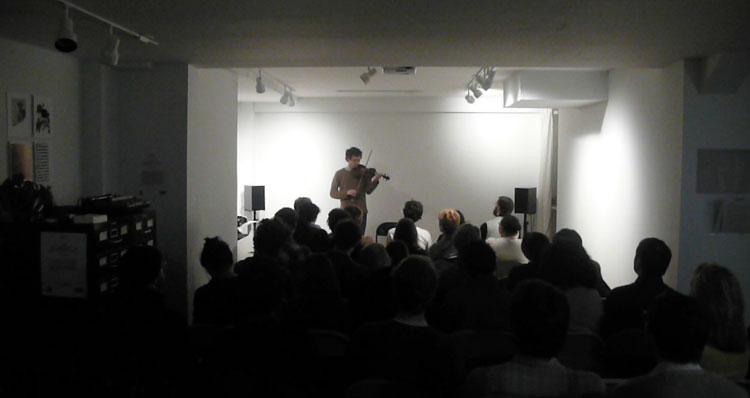 PERFORMANCE: Sam Amidon in Concert, February 22, 2010
Amidon, who contributed a track to the Esopus 12: Black and White CD, performed an intimate acoustic set of music to a packed house. VIEW VIDEO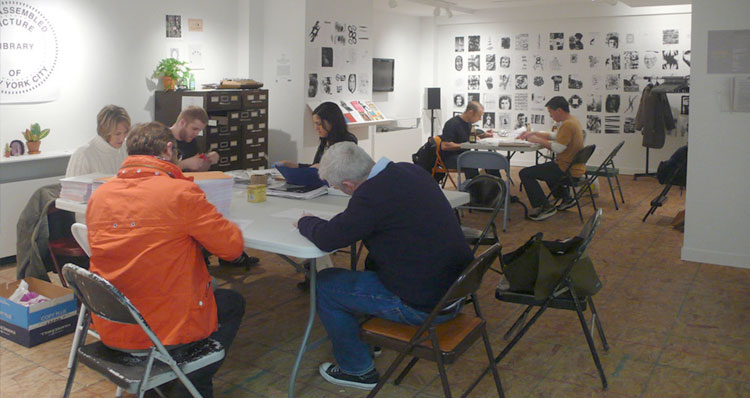 EXHIBITION: The Assembled Picture Library of New York, Feb. 16-March 18, 2010
This collaborative exhibition and workspace environment organized by artists Robin Cameron and Jason Polan provided free and open access to thousands of images from their collections. Visitors were invited to use these images—including manuscripts, advertisements, prints, original drawings, and more—as raw material for their own artworks, which were displayed on the walls of Esopus Space for the length of the exhibition. Polan and Cameron also created a limited-edition book featuring visitors' artworks, The Assembled Picture Library of New York Book, available at the closing reception on March 18, 2010. REVIEW ON THE AWL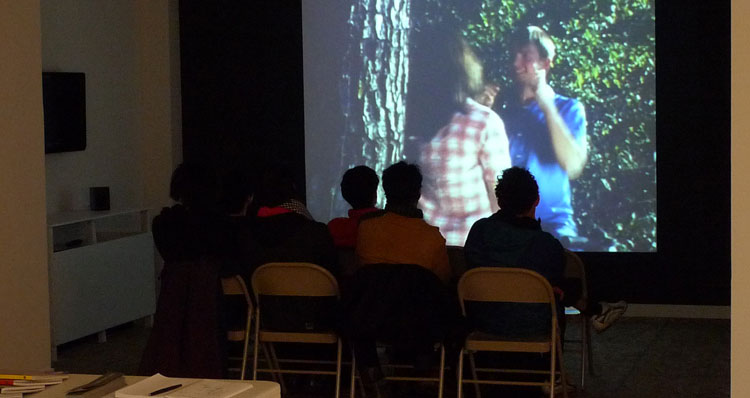 EXHIBITION: Kelly Reichardt: Three Shorts, January 4–February 11, 2010
In the winter of 2010, Esopus Space presented a continuous screening of three undistributed short films—Ode (1999), Then a Year (2001), and Travis (2004)—by acclaimed independent filmmaker Kelly Reichardt. REVIEW IN ARTFORUM